Statistics
Trafic (SimilarWeb)
7 191 000
Payment:
Bank Transfer
Payoneer
PayPal
Level 37
Grosvenor Place
225 George Street
Sydney, NSW 2000
Australia
ACN 141 959 042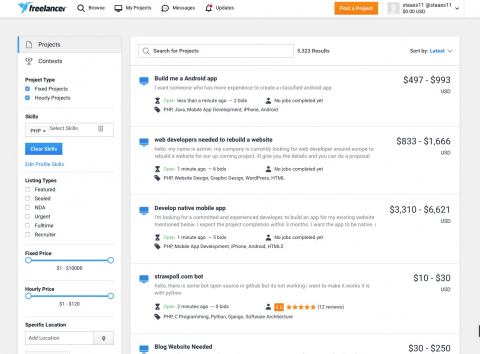 Freelancer.com was launched in 2009 after merging several local sites for freelancers. In 2015, the project gained its first million registered users.
Free registration is done through Facebook account or email. After registration users select their desired payment method - PayPal or credit card.
Qualification tests are chargeable - $5. There are fees for many services provided by the site. Platform will charge both - freelancer and customer for the same project.
There are two types of account - free, limited to eight applications per month, and paid ($ 9.95 per month). Paid account gives you a hundred applications per month and increases the number of skills you can advertise up to eighty.
There is a Freelancer mobile application with full functionality of the pc version - you can stay informed regardless of the location.
Freelancer Desktop application will help you track the time taken to work on the "hourly based" project. It will automatically take screenshots after certain periods of time and send the bill.
You can draw attention to yourself, improve your reputation and earn money by applying for a tender - it's free, but if you win, you will have to share with the platform.
Protection of payments is provided by Milestone Payments - before the start of work the client's money is deposited in a special account and automatically transferred to the freelancer's after the project is finished.
Reviews