Statistics
Trafic (SimilarWeb)
108 200
goLance Delaware
8 The Green St, Suite 4753, Dover, DE 19901
goLance Dublin
Trinity House, Charleston Road, Ranelagh, Dublin 6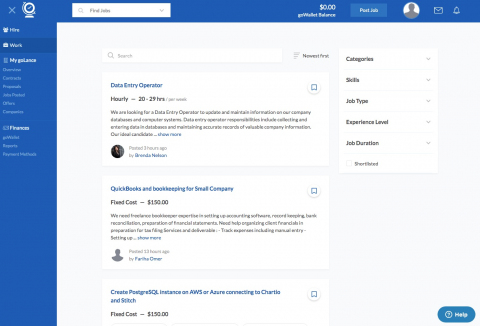 In 2008, a group of English enthusiasts organized the GoLance.com freelance platform, which not only enables customers and freelancers to work together, but also provides an opportunity to share experiences through users' personal blogs. In the process of communication, points are accumulated - ratings of works in the portfolio and karma for good posts. The points earned are converted into the internal service currency, which can then be used to pay for services on the platform.
Signing up is easy - you only need an email address. Registration is also possible through a Google account. After registration, it is necessary to complete tests to confirm the qualifications of the freelancer and fill out the portfolio.
The GoMeter app allows you to accurately determine the time a freelancer spends on work - it takes screenshots at certain periods of time. The customer can pay for the work of the contractor after the completion of certain stages or make an hourly payment for it, as well as track the work of the freelancer using a work diary.
The use of the GoLance.com platform is free for customers, in addition, the platform provides an opportunity to get cashback from the amount of payment for orders. Freelancers are charged a 7.95% commission. The Milestone Funding option allows you to freeze the customer's funds, which guarantees the remuneration of the freelancer upon completion of the project.
Reviews